New Delhi
: About 60 years ago, she was born into a good family.
Unfortunately she was separated from her parents.
Later he married a cook, who used to work with the Bollywood star Feroz Khan.
She moved to Mumbai from West Bengal with him.
But after that 'cracks' started to emerge in his family and along with this his struggle for living also increased.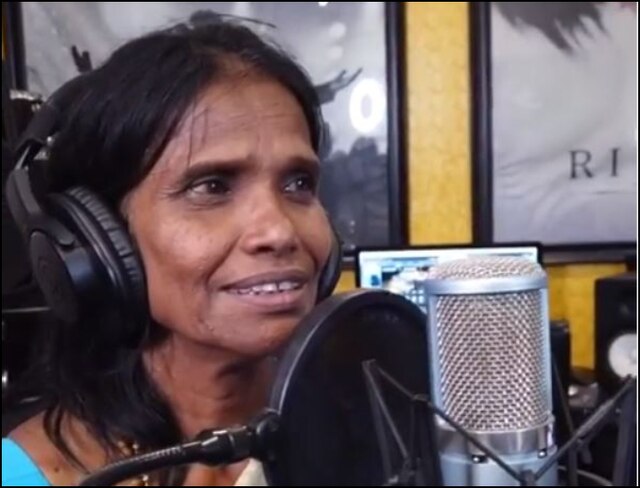 In the year 2019 .. Today she is a singer of Ranaghat railway station Ranu Mandal, an internet sensation and a budding Bollywood singer.
Ranu finished the Facebook Live session with his rapidly growing fan base.
After this he said, "The story of my life is very long. A film can be made on the story of my life. It will be a special film."
It was just a few weeks ago, when a video of her went viral online, in which she was singing Lata Mangeshkar's evergreen song 'Ek Pyar Ka Nagma Hai' on the railway platform.
The video received the attention of several channels and music composers, including Himesh Reshammiya, who offered to launch him in Bollywood as a playback singer.
He also recorded an episode of the reality show 'Superstar Singer'.
He is getting a taste of success right now, but before the viral video, his life was something else.
She recalls, "I was not born on the sidewalk. I was from a good family, but that was my destiny when I separated from my parents at just six months old."
Ranu says, "We had a house. But you know that people are needed to run it. Many days were lonely. I struggled a lot, but I always believed in God. I sing according to the circumstances She used to sing. It was not like I was given a chance to sing, but I loved singing, so I used to sing. "
He recalled, "I used to learn Lata Mangeshkar's songs. He did not teach me, but I learned from radio and cassettes."
Years later, they married.
Ranu told, "We shifted from West Bengal to Mumbai after marriage. My husband was a cook in the house of filmstar Feroz Khan. At that time his son Fardeen was in college."
Ranu said, "He used to treat us very well, like his family members."
He enjoyed his life in Mumbai, watching new movies, including Jackie Shroff's film 'Hero'.
But after that her 'family broke up' and she came back to her home state.
Now currently, he is very happy.
She is again with her daughter and is looking forward to her Bollywood debut.
He said, "I am very happy and feeling very good. The thing is that the facilities of music in Mumbai mean a lot to me. They are important. It is difficult to come to Mumbai from my house and then return by plane. It would have been nice if I had a house in Mumbai. But I don't need to think about it. God. "
There were reports that superstar Salman Khan gifted him a flat.
He denied that he had received any gift from them.
Ranu said, "I haven't met Salman yet. But his film 'Tere Naam' was a very good film."
He is getting a lot of offers from people due to his melodious voice and internet.
Now it is up to them what they want to do next.