On the third day of the second Test, India bowled out West Indies for 117 runs in their first innings.
India, who scored 416 runs in the first innings, got a lead of 299 runs on the basis of the first innings, but captain Virat Kohli decided to bat in the second innings, not following the West Indies.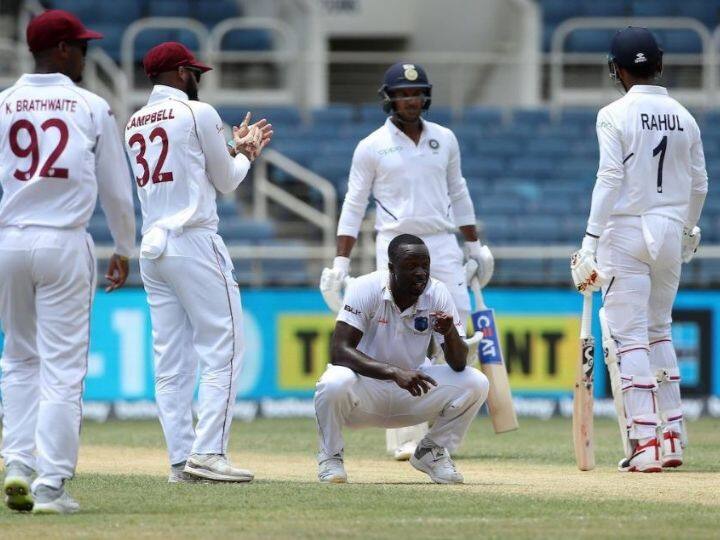 India had a disappointing start in the second innings and by lunch break the team lost a wicket on the score of 16 runs.
In this way, India's total lead has been 315 runs.
At lunch, opener batsman Lokesh Rahul was playing for six while Cheteshwar Pujara was scoring five runs.
India lost the wicket of Mayank Agarwal (04) in the second innings, which was LBWed by fast bowler Kemar Roach.
Earlier, West Indies started the day with 87 runs for seven wickets and India also dismissed the remaining three batsmen of the host team in 14.1 overs in 75 minutes.
The West Indies added 30 runs during this period and took the score to 117 runs.
Jasprit Bumrah took a career-best performance, picking up six wickets for 27 runs, but today he did not get a single success.
Mohammad Shami (two wickets for 34), Ravindra Jadeja (one wicket for 19 runs) and Ishant Sharma (one wicket for 24 runs) took one wicket each in the morning.
Mayank Agarwal (04) and Rahul's opening pair, batting in the second innings, once again failed to give India a good start.
Aggarwal opened the account with a four on Jason Holder but was lbw to Kemar Roach.
Aggarwal resorted to Dias but had to return to the pavilion due to an umpire call in TV replays.
After this, Rahul and Pujara did not let India get any more shock till lunch.
Rahul opened the account with fours on Roach while Pujara hit Rahkim Cornwall for a four.
In the morning session, Rahkim Cornwall (14) was the first batsman to be dismissed, who hoisted the bouncer in the fifth over of Shami's day and Rahane took a very easy catch.
This was Shami's 150th wicket in 42nd Test.
At the crease after Cornwall's dismissal, Roach (17) hit four boundaries on Bumrah and Shami.
Roach earlier completed the hundred of the team's runs in the 39th over with two runs off Bumrah's ball.
Jahmar Hamilton took a run off Ishant's ball, which was his first run after 47 balls in the innings.
Ishant, however, made a ninth blow to West Indies by making debutant Hamilton in the second slip, caught by Kohli.
Hamilton scored five runs in 59 balls.
Jadeja ended the West Indies innings by getting Roach caught by Agarwal in the next over.